News and Events
---
Summer 2016: New location!
This summer the ISC performs Henry VI and Twelfth Night outdoors in Allan H. Treman State Marine Park (near the Cayuga Lake inlet and marina). See a map of our new lakeside performance venue!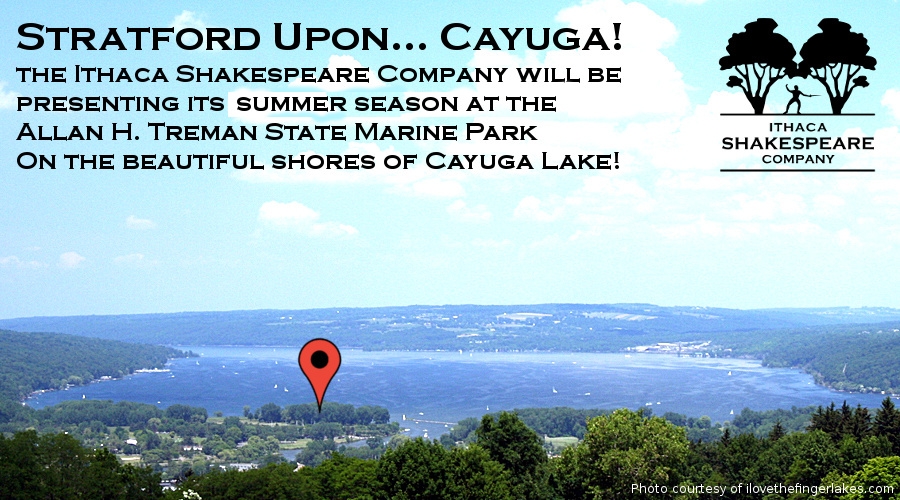 ---
Summer Shakespeare Moving to Allan H. Treman State Marine Park Beginning July 2016
June 3, 2016 (Ithaca, NY) - All the world's a stage, and the Allan H. Treman State Marine Park will provide the stage for outdoor Shakespeare in Ithaca beginning this July.
The Ithaca Shakespeare Company, Inc. will present its outdoor performances in a beautiful meadow at the north end of the Marine Park that is bounded on one side by the Cayuga Inlet and encircled on all other sides by a grove of tall trees.
"We are delighted that Ithaca Shakespeare will present its summer program in our Park," said Fred Bonn, Director of New York State Parks for the Finger Lakes Region. "They have a long tradition of excellent performances, and we are very pleased to offer theatre of such fine quality to our visitors at the Park." Jim Brophy, Park Manager, added: "I'm a Shakespeare fan, and I could not be more pleased that the Park will be hosting these shows."
"We're grateful to have this new home," said Michael Pinnisi, President of the Ithaca Shakespeare Board of Directors. "The Park's meadow on the Inlet is an exceptional performance space with great natural beauty, clear lines of sight, and protection from the sun for our audiences, and there's no traffic noise. There is ample parking in paved lots, and the Cayuga Waterfront Trail passes nearby. And, we'll have the space to offer something new – an area for pre-show entertainment and refreshments. We're working out arrangements with some very talented people, and we'll share more information about this as it develops."
"The Hangar Theatre warmly welcomes its new neighbor for summer theatre," said Josh Friedman, Managing Director of the Hangar. "We have collaborated with Ithaca Shakespeare in the past few years by hosting its indoor shows in our facility, and we are jointly marketing our summer programs this year in a 'Come for the Gorges, Stay for a Show' campaign. We think it's wonderful that the Park will host Ithaca Shakespeare and I'm excited by the energy and opportunity that this move creates for our audiences, tourists, and our two organizations."
Ithaca Shakespeare began performing outdoor Shakespeare at the Cornell Plantations in 2003. The first performances were done on a very small scale, but the program has grown steadily since then and is now the largest Shakespeare festival in Central New York, with a total attendance of about 4,000 a year. "We have many fond memories of our time at Cornell Plantations, and we're grateful to them for hosting the performances for so many years," said Stephen Ponton, Artistic Director of Ithaca Shakespeare. "But this move is a necessary step as we continue to expand the scope of our program."
"We are saddened to learn that Ithaca Shakespeare will be moving its summer productions from the Cornell Plantations to a new location. As the Bard wrote, 'parting is such sweet sorrow,'" said Christopher Dunn, the E. N. Wilds director of Cornell Plantations. "It has been our honor to watch the ISC grow from the Summer House in the botanic garden, to Jackson Grove in the arboretum, and now to the shores of Cayuga Lake. Our partnership has been a mutually rewarding one. We wish them nothing but great success in the years to come."
Ithaca Shakespeare will feature two very different shows this summer: Twelfth Night, one of Shakespeare's most popular romantic comedies, in rotating repertory with a rare treat, Henry VI: A Tiger's Heart, the latest episode in Ithaca Shakespeare's presentation of the Bard's epic history plays. Be prepared for many laughs in the former, and for much sword play and power struggles in the latter – a true game of thrones.
Twelfth Night will be performed July 7, 10, 14, 16, 22, and 24; and Henry VI will be performed on July 8, 9, 15, 17, 21, and 23. All shows will begin at 6:00 pm. Pre-show activities will begin at about 5:00 pm on each show night.
The Allan H. Treman State Marine Park is on NYS Route 89, just north of Cass Park. Entrances for the Marine Park are through the access road off of Taughannock Boulevard immediately next to the Hangar Theatre, and via the Cass Park Access Road next to the ice rink. Signs along the access roads will direct you to the parking and Shakespeare performance areas.
To purchase tickets online, and for more information about Ithaca Shakespeare and its upcoming shows, visit www.ithacashakespeare.org.
Newsletter Archive