Tonight is the final performance of Twelfth Night, and the last show of our 2016 summer season! Come join us and enjoy one of the greatest romantic comedies ever written, in what is literally the twelfth night of our inaugural season in our new location by the lake!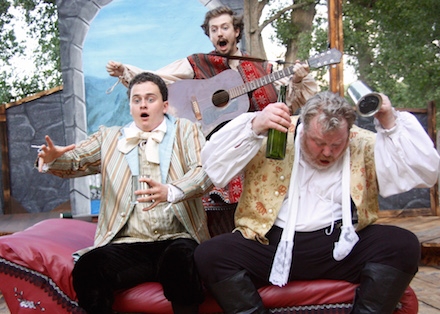 "It was the best performance of Twelfth Night I've ever seen! Enjoyed every minute. Such wonderful actors."

"I loved it. I laughed so hard I thought I would cry!"

"I attended your production of Twelfth Night yesterday, and like Malvolio, I was smiling from ear to ear. The ins and outs of this convoluted plot were brilliantly directed. The energy was contagious. Thank you all for such an inspired production."

Twelfth Night
Final Performance: July 24 at 6 pm
Tickets on sale now or available at the door




An exploration of love in all its forms, the crowning glory of Shakespeare's romantic comedies is a richly layered and endlessly entertaining play. Hilariously funny and deeply romantic, Twelfth Night features: a shipwreck, a clever heroine in disguise, twins that no one can tell apart, multiple cases of mistaken identity, a lovesick count, a lovesick countess, a pair of drunken pranksters, a duel (sort of), a pair of yellow stockings, a pirate, a fool, a madman, a bunch of lovers, a bunch of songs, one of the greatest practical jokes in all of literature, and a whole lot of smiling!

All performances at Allan H. Treman State Marine Park, on Route 89 behind the Hangar Theatre.

The Ithaca Shakespeare Company · Ithaca, NY 14850 · info@ithacashakespeare.org