Happy Shakespeare Day!
Today, April 23, 2016, is the 400th anniversary of Shakespeare's death. In commemoration of this date, Shakespeare companies and enthusiasts around the world — and even above it, on the International Space Station — are celebrating his works and legacy.
How can you join the celebration?
If you're the President of the United States, obviously you visit the Globe Theatre in London: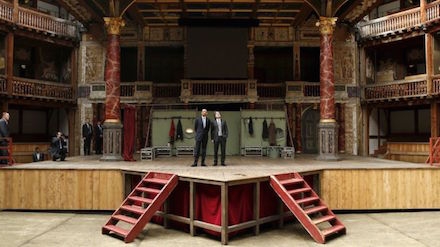 The rest of us might:

Submit a short video to a global, mass-participation digital video festival celebrating Shakespeare...

Spend the day speaking like a Shakespearean character on National Talk Like Shakespeare Day...

Read some Shakespeare — out loud, the way it was meant to be experienced — with your children, parents, friends, or complete strangers...

Make a donation to a theatre organization that is keeping Shakespeare's works alive and introducing a new generation to them in exciting, accessible performances year-round. Ithaca Shakespeare is in the midst of our most ambitious season ever, with four fully staged productions in 2016, and we could truly use your support on this anniversary occasion.

Click here to celebrate World Shakespeare Day by making a quick, secure donation online or by mail.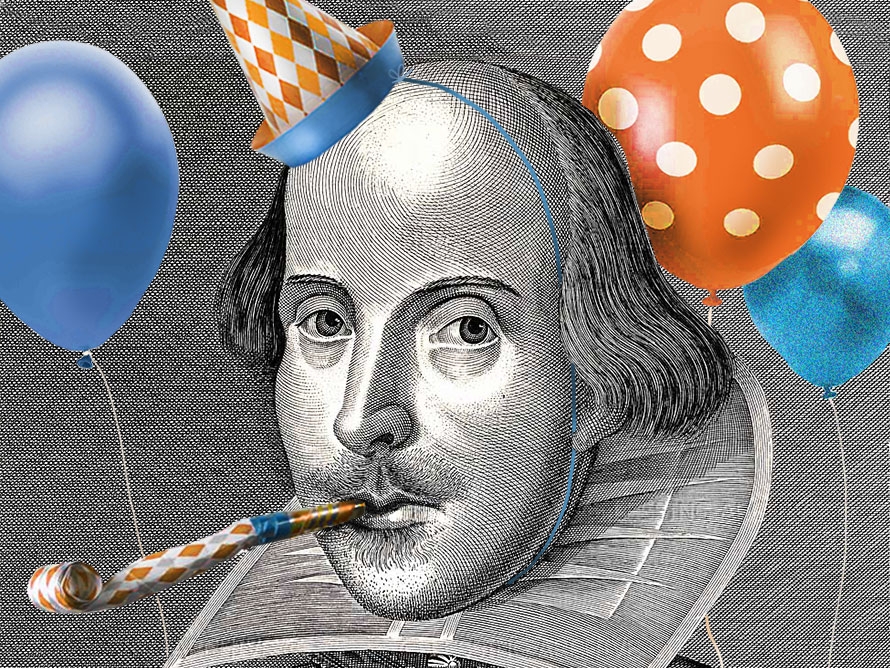 Was Shakespeare really born on April 23 also?
We also celebrate Shakespeare's birthday on April 23, but was he really born that day? Actually, we don't know. There's no documentary evidence of exactly what day Shakespeare was born. So why do we say it was April 23? Three reasons:
There is a record of Shakespeare's baptism on April 26, 1564, and a new baby would typically have been baptized within a few days of birth. So he might have been born on April 23...but it might just as well have been another day close to it.
Shakespeare died on April 23, 1616. There is documentary evidence of that.
April 23 is St. George's Day, and St. George is the patron saint of England.
The idea that England's greatest writer might have been born and died on the day dedicated to England's patron saint is just too perfect for scholars and Shakespeare fans to resist. So we choose to celebrate Shakespeare's birthday on April 23. And it might be true...
Summer 2016:
Twelfth Night
Henry VI: A Tiger's Heart
"The very best summer thing."
-- Warren Greenwood, Ithaca Times
Our 2016 summer season is fast approaching! This summer, we'll be pairing the fourth installment in our history series with one of Shakespeare's richest and best-loved romantic comedies. (Please note: There has been a change in which plays are being performed on which days in the first weekend. The dates listed below are correct.)
Twelfth Night
July 7, 10, 14, 16, 22, 24 at 6 pm
An exploration of love in all its forms, the crowning glory of Shakespeare's romantic comedies is a richly layered and endlessly entertaining play. Hilariously funny and deeply romantic, Twelfth Night features: a shipwreck, a clever heroine in disguise, twins that no one can tell apart, multiple cases of mistaken identity, a lovesick count, a lovesick countess, a pair of drunken pranksters, a duel (sort of), a pair of yellow stockings, a pirate, a fool, a madman, a bunch of lovers, a bunch of songs, one of the greatest practical jokes in all of literature, and a whole lot of smiling!
Henry VI: A Tiger's Heart
July 8, 9, 15, 17, 21, 23 at 6 pm
When Henry V dies and leaves his young son on the throne, the divisions in the kingdom break open and England erupts into civil war. The Wars of the Roses pit the house of Lancaster against the house of York — one led by one of Shakespeare's most formidable women, and the other driven by the ominous rise of the future Richard III.

Drawing on material from all three parts of Shakespeare's Henry VI, this sweeping epic features the first appearance of Richard III, two of Shakespeare's strongest women in Queen Margaret and Joan of Arc, the scene that gave birth to the phrase "the Wars of the Roses," a popular rebellion with the slogan "Let's kill all the lawyers!", and some of the most thrilling and intense conflicts that Shakespeare ever created.

The game of thrones heats up to boiling point in this show, so put it on your calendars now!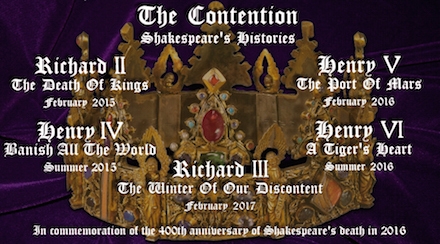 The Ithaca Shakespeare Company · Ithaca, NY 14850 · info@ithacashakespeare.org