Looking For Richard
On of our productions this summer is Richard III, which features one of the most fascinating characters in all of Shakespeare. Many of us probably have some awareness of who Richard III is, but what do we really know about him?
The Real Richard
There have been many arguments back and forth regarding the accuracy of Shakespeare's portrayal of Richard III. The truth undoubtedly lies somewhere between those that claim that Richard was a deformed monster and those that see him as a great ruler, much wronged by Shakespeare's depiction of him.

These discussions became much more interesting in September 2012, when a team of archeologists discovered the remains of the actual Richard III in Leicester, England. The skeleton shows no evidence of the limp or withered arm that Shakespeare's character describes. It shows that he did have scoliosis, however, which twisted his spine and would have resulted in one shoulder being significantly higher than the other. (An image of the actual spine is shown at right.)

The skeleton also showed that Richard sustained a great many wounds from a variety of different weapons in his final battle, and that they were incurred both before and after he was dead. We have drawn on this information in our staging of the final battle sequence for this production.

To read more about one of the most fascinating archeological discoveries of modern times, check out the University of Leicester website on the project here.
Shakespeare's Richard
Shakespeare, of course, didn't have any of this archeological information when he wrote his play. Many of the details of Shakespeare's portrayal are taken from a history of Richard III written by Sir Thomas More — one of whose patrons was John Morton, the former Bishop of Ely. Ely is a character in Richard III who defects from Richard's side to that of Richmond and who might have been the source for much of More's material.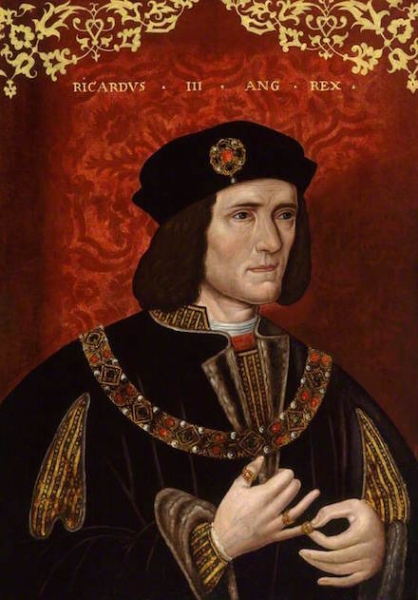 The character who eventually becomes Richard III makes his first appearance in Shakespeare's Henry VI, Part 2 and becomes a major character in Henry VI, Part 3. It's fascinating to watch the character emerge and develop from play to play — from a sharp-tongued, hot-headed young warrior to the smooth, manipulative villain that we see in Richard III.

Richard is a complex character. He is clearly a villain, scheming to become king, perfectly willing to have his brother, nephew, and anyone else who stands in his way imprisoned and killed to get what he wants. But he can also be charming, witty, and seductive. He's a skillful warrior and a brilliant actor, able to convince the other characters of one thing and then turn to the audience and drop the act in an instant. He's so good at what he does, and so good at drawing the audience into his scheming, that it's hard not to root for him at times.




Richard and others frequently draw attention to his physical disabilities: he states in Henry VI, Part 3 that he has a withered arm, an "envious mountain" on his back, and legs of unequal length, and he has clearly been mocked and mistreated his whole life for his appearance. Even his own mother, the Duchess of York, seems unable to love him. The bitterness and anger he feels toward the world as a result of this treatment is frequently apparent and offers an explanation — but not an excuse — for much of his behavior. It is fair to wonder what the character might have been like if he had experienced different treatment at the hands of others throughout his life.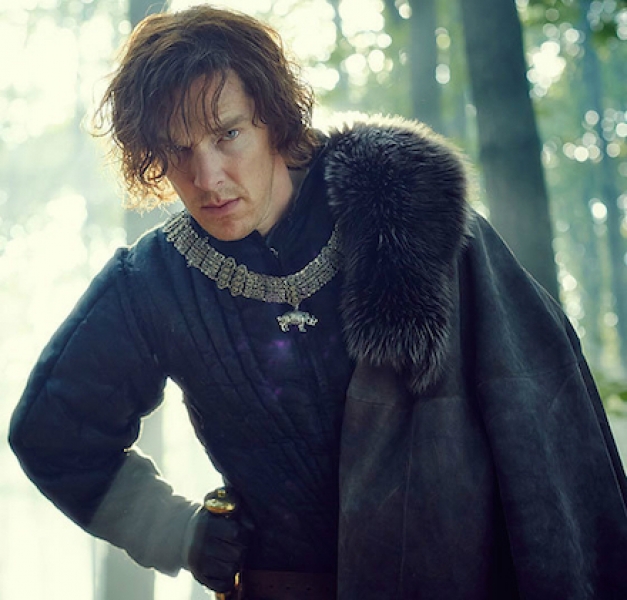 Such speculations aside, Richard is successful at making himself king, with the aid of his primary ally, the Duke of Buckingham. From that point on, however, things go downhill quickly for Richard. His control slips, he becomes more and more paranoid, and Buckingham and others who had supported him begin rebelling or defecting to the Earl of Richmond, returning from exile to take the throne from Richard. Richard does show some traces of conscience, remorse, and a growing self-awareness after dreaming that all the people he had killed returned to curse him — but he suppresses these pangs and resolves to fight to the end, becoming a focal point for the anger and unhappiness of all those fighting against him.

Whether you've seen the earlier productions in ISC's history series or not, you don't want to miss this grand finale to the sequence! As always, we'll provide an introduction to make sure you know who's who and what's happening as the play begins.
"The very best summer thing."
— Warren Greenwood, Ithaca Times
This summer, we'll be pairing the final installment in our history play series with one of Shakespeare's most popular battle-of-the-sexes romantic comedies! All performances at Allan H. Treman State Marine Park, on Route 89 behind the Hangar Theatre.
Tickets on sale now!




The grand finale in ISC's epic series of Shakespeare's English history plays! The Wars of the Roses are over, the House of York has been victorious, and England is at peace...until Richard of Gloucester begins maneuvering against his own family to take the throne for himself. Shakespeare's most fascinating villain sends the country spiraling back into civil war, leading to a final confrontation in which the living and dead alike must battle for the soul of the nation.
Tickets on sale now!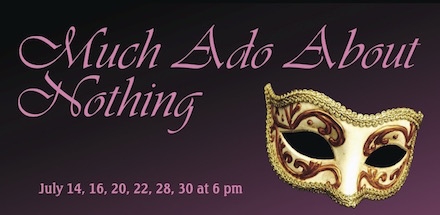 When Don Pedro and his soldiers arrive in sunny Messina for some much-needed R & R, love blossoms, and Beatrice and Benedick rekindle their merry war of wit. Don Pedro attempts to out-do Cupid by tricking Beatrice and Benedick into falling in love with each other, while Don John and his drunken henchmen scheme to ruin the marriage of their hated rival.

Music, dance, romance, one of Shakespeare's wittiest heroines, and the most hopeless night watchmen ever imagined come together in this brilliant romantic comedy.
General admission tickets can also be purchased with cash, check, or credit card at the entrance.

The Ithaca Shakespeare Company · Ithaca, NY 14850 · info@ithacashakespeare.org