Summer 2015:
Henry IV, A Midsummer Night's Dream,
And Shakespeare Camp For Kids!
This July, ISC presents the most popular of Shakespeare's plays in his own time, together with his most popular play today. Two of Shakespeare's most phenomenally entertaining plays, coming to Cornell Plantations this July — it's a pairing not to be missed!


The second production in our epic series of Shakespeare's history plays continues the story begun in Richard II.

Having taken the throne for himself, Henry Bolingbroke must deal with rebellions on every side — including those led by the very allies who helped him gain the throne. Making matters worse, his unruly son would rather spend his time carousing in the taverns with Falstaff than behave like a prince.

The most popular of Shakespeare's plays in his own time, Henry IV is comedy, drama, history, and adventure all rolled into one. The rowdy comedy of Falstaff and his tavern mates blends into a moving exploration of the relationship between father and son, all leading up to a climactic battle between the two greatest warriors in the country...and a heartbreaking decision for young Prince Hal.

This production will combine material from Henry IV Parts 1 and 2, and will once again start with a brief introduction to catch you up on the story and introduce the main characters.

And we'll be pairing it in rotating repertory with...


Shakespeare's most popular and magical play, and perhaps the most perfect theatrical comedy ever written!

Quarreling lovers, feuding fairies, a mischievous hobgoblin, and a hapless band of wanna-be actors come together in the forest, with hilarious results...
Don't miss these two incredibly entertaining plays in the beautiful Arboretum at Cornell Plantations!
All shows in Jackson Grove, in the F.R. Newman Arboretum at Cornell Plantations
Tickets $10-25 - both general admission and reserved seating available
Student/senior discounts available for all shows
And do you have a young Shakespearean in the family? Give them a chance to learn and perform on the ISC stage this summer!
Kids' Shakespeare Camp and Show
July 6-10, 2015
Let your kids learn about Shakespeare and the performing arts in the most exciting possible way!
In this week-long training program for ages 8-13, professional actor and teacher Theo Black will lead your kids through an exciting exploration of what it's like to perform Shakespeare live!
Your kids will learn:
How to explore Shakespeare's words and make them their own
Voice, movement, and stage combat skills
Improv games, creative exercises, ensemble acting, and team-building
A much deeper appreciation for the full range of Shakespeare's art
And the best part is: at the end of the class, your kids will get to perform a selection of interwoven Shakespearean scenes on the ISC stage at Cornell Plantations, in front of the ISC's audience, at the opening night of ISC's production of A Midsummer Night's Dream!

Give your kids a chance to experience Shakespeare as a living, breathing art form, completely relevant to our lives today, meant to be performed on stage in front of an audience.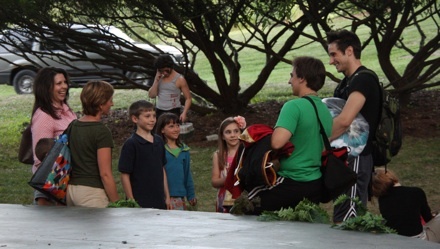 ISC actors are always besieged by kids after a show. Let your kids become part of the excitement!
The camp will be taught and directed by Theo Black, a member of Actor's Equity Association who received his MFA from The Shakespeare Theatre's Academy for Classical Acting in Washington, D.C. He has performed with The California Shakespeare Theatre, Lake Tahoe Shakespeare Festival, Illinois Shakespeare Festival, and others, and has been a teaching artist with the Hangar Theatre and ActingOutNY, as well as teaching and coaching at both Ithaca College and Cornell University.

Camp Schedule: Monday-Friday 9:30am-2:30pm, July 6-10, 2015

Performance: July 10 @ 5:30 pm

Tuition: $250 per child

To sign up: E-mail the instructor to reserve a spot for your child. Space is limited!

Please note: We need to have a minimum number of students enrolled in order to run the camp. If not enough people sign up, the camp may be cancelled. So spread the word!
If you have questions, please e-mail the instructor, Theo Black, at coachtheoblack@gmail.com.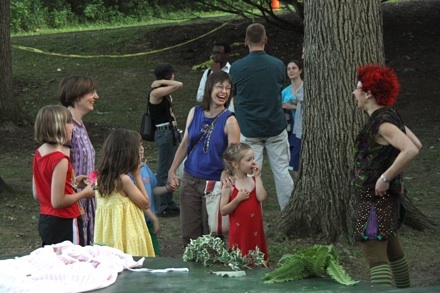 More young Shakespeare fans meeting the Puck!

Many thanks to everyone who braved the cold and snow to come see Richard II in February.

Join us again at Cornell Plantations this summer for the second part of our epic history series...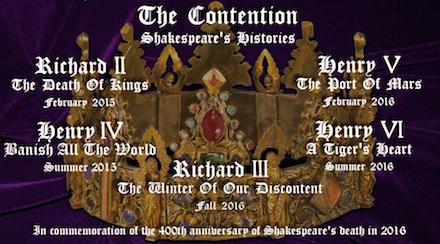 The Ithaca Shakespeare Company · Ithaca, NY 14850 · info@ithacashakespeare.org