Julius Caesar
November 6-9 and 13-16, 2014
An all-female cast takes on Shakespeare's great political tragedy!

Honor, betrayal, conspiracy, murder, swordfights, riots, ghosts, and one of the most brilliantly persuasive speeches ever written...
When: November 6-9 and 13-16, 2014
Evening performances at 7:30 pm, Sunday matinees at 4 pm
Where: Fall Creek Studios, 1201 N. Tioga St.
Thursdays are discount nights — all tickets just $12!
Regular tickets on other nights are $20, with student and senior discounts available.
Free wine tasting from Americana Vineyards on Friday, November 7
Prize giveaways featuring a hotel and spa package from La Tourelle, dinner and a show at the State Theatre, and more
Seating is very limited, and some performances are already sold out, so...
Ushers are still needed for many performances! Sign up online and see the show for free!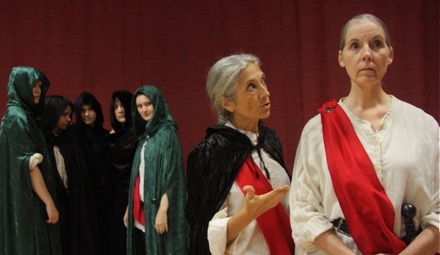 The Ithaca Shakespeare Company · Ithaca, NY 14850 · info@ithacashakespeare.org