Our Theatre at Fall Creek Studios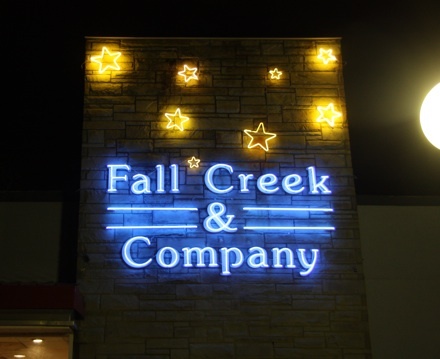 Our indoor productions take place in an intimate theatre at Fall Creek Studios which is located at the north end of Tioga Street in downtown Ithaca. The address is 1201 North Tioga Street.
The entrance into the Studios is located on the left side of the building, around the corner from the main movie theatre entrance. Free parking is available in any of the adjacent lots or on the surrounding streets.
The theatre box office and lobby opens 30 minutes before performance time. House opens 15 minutes before performance time.
Tickets are also available for purchase at the theatre during performances. We can only accept cash or checks when purchasing tickets at the theatre. Tickets will be sold at the door for any shows not sold out.
Map and directions
Click the "Directions" link in the map for step-by-step driving directions.
The NorthStar (public) House
The Northstar Pub is our next-door neighbor in Fall Creek!
"Make a visit and you may find yourself drawn to it again and again, for the next-best-thing to a home-cooked meal."
— Ithaca Times
Northstar Pub is located at 202 East Falls Street, right next to the former Fall Creek Pictures building. For more information, they can be reached at 607-216-8580.
"Showcases the unpretentious cooking that is a grab bag of eccentric multicultural influences that lie at the heart of contemporary American cuisine. It's a straightforward and delicious food one wants to find at home, or in the neighborhood." — Ithaca Times
Read the full Ithaca Times review of Northstar here.