Company Leadership
Stephen Ponton, the ISC's Artistic Director, has acted as the group's general artistic and administrative leader since arriving in Ithaca in 2001. He directed several indoor productions for the company, followed by the first six outdoor productions at Cornell Plantations. He continues to direct some of the group's shows while supervising and producing others.
In addition to his directing, Stephen has presented scholarly research on Renaissance, Medieval, and modern theatre at academic conferences; placed as a finalist in national screenwriting competitions; and taught extensively in the areas of Shakespeare, theatre, and film studies.
Prior to re-entering the theatrical and academic worlds, Stephen was a Navy medic and lived in Europe for several years. He has maintained a lifelong interest in health and fitness and is certified as a strength and conditioning specialist and a personal trainer.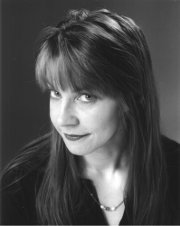 Melanie Uhlir Melanie Uhlir began her local acting career after a friend suggested that she should audition for Much Ado About Nothing (Black Umbrella, 2002). That experience led her to audition for, and perform in 24 stage roles in many venues with many companies, 5 film roles, and 2 voice roles over the next 8 years. Melanie loves voice acting and is always looking for opportunities to do more of it. Favorite stage roles include Caliban in The Tempest (Red Bull Players, 2002), Mistress Quickly in Sir John Falstaff and the Merry Wives of Windsor, Queen Margaret in Richard III (Red Bull Players, 2005), Fool in King Lear (Red Bull Players, 2008) and most recently, Puck in A Midsummer Night's Dream (Ithaca Shakespeare Company, 2009), which finally gave her the long-awaited opportunity to release her inner hobgoblin!
Melanie has been performing with Red Bull Players/ISC and assisting in its administration since their indoor production of The Tempest in 2002. It was her idea to start an outdoor Shakespeare program at Cornell Plantations. In addition to acting, Melanie has also been responsible for most of the company's graphic design work over the years.
Offstage, Melanie is a certified personal trainer, has earned a second-degree brown-belt in Shaolin-Do kung fu, and enjoys singing and playing rock and blues on bass and six-string electric guitar. She lives near Ithaca with her husband and their dog-like cat, Squeak.
Dave Dietrich is an émigré from Baltimore, Md. to Ithaca. He received his first experience with acting while getting his bachelor's degree from Towson University, taking two introductory courses. He now lives in the rural Town of Enfield, near Ithaca, in an old farmhouse. Dave loves animals, singing, reading, daydreaming about great square-rigged sailing ships, wondering if he shouldn't have been born in 1604, but, more than anything, his wife, Joan. He is an owner and cook at Moosewood Restaurant.
Dave did not perform on stage until the age of 49, when he got to play the part of Corin in Black Umbrella's production of Shakespeare's As You Like It. Last summer, nine years later, he performed in his 17th play, portraying Theseus in A Midsummer Night's Dream. Most of his work has been in free, outdoor, summer Shakespeare, a form he loves and is devoted to. He was lucky enough to have performed in Ithaca's old Firehouse Theater in Shakespeare's Measure for Measure and as the ghost of Jacob Marley in A Christmas Carol. He has performed on the main stage of Cornell University's Schwartz Center, playing several small roles in Inherit the Wind. He has performed in original pieces by local playwrights Kathy Kramer and Judith Pratt. In the hurly-burly of grass roots theater, Dave has built sets and props, painted, decorated, and made costumes. He joined the Red Bull Players, now the Ithaca Shakespeare Company, during the early planning for Antony and Cleopatra in 2003.
Lauren Cowdery came to costuming as a second career after being an English professor and editor for over two decades, and now does dressmaking and alterations in her home. She began costuming for the Red Bull Players'/Ithaca Shakespeare Company's first out-of-doors production, Antony and Cleopatra in 2003, and has done every one since (so just about every costume on this website is her design). Since 1997 she has designed productions for the Ithaca City School District including Titanic and Beauty and the Beast. She has costumed two short films and many plays and operas with such groups as NYS Baroque, Women's Works, Music's Recreation, the Cornell Savoyards, and Theatre Incognita. She is most proud of her work with Artists in the Schools, bringing Baroque costumes into regional high school classrooms, and with Family Reading Partnership, bringing book characters like Rainbow Fish to life for small children.
Judith Andrew is a native of Pittsburgh, PA and has been living in Ithaca since 1974. After acting throughout her college years, she came to Ithaca to work with the Crystal Theatre, which performed in a renovated barn on Bostwick Road. A few years later, she joined Central Casting Theatre, which produced contemporary American plays on Old Taughannock Boulevard. There, until 1985, she acted (The Art of Dining, The Woolgatherer, 5th of July, and others), directed, and produced, with, among others, her husband since 1975, Robert Andrew. In 1988, Robert and Judith's son Benjamin was born and their theatre life gave way to happy years of parenting a fascinating young boy.
Fourteen years later, Judith returned to acting. Her first role after this long hiatus was Lady Macbeth in Black Umbrella's production of Macbeth. The following year, she acted in Fifth Floor Production's The Dodgson Girls, by Natalie de Combray, and in 2005, she was cast for the first time in a Red Bull Players production, playing Elizabeth in Richard III. Her other roles with the Red Bull Players, now known as the Ithaca Shakespeare Company, have been as a player in The Complete Works of William Shakespeare, Abridged; Gertrude in Hamlet; Goneril in King Lear; and Titania in A Midsummer Night's Dream. In addition to acting with the company, she has been a member of the core production staff. Judith also acts with Ithaca's Wolf's Mouth Theatre Collective and Theatre Incognita.
In "real life," she works in the music department of Ithaca College Library, continues to love being a wife and mother, and will most likely never live anywhere else other than her beloved Ithaca.
In Memoriam
NOTE: It is with great sadness that we note that Bob passed away in 2011. He was and is so much a part of our company that we have left his bio on this page for the time being.
Robert DeLuca has been a performing artist for his entire adult life. He believes in the actor/artist, against stereotype, as a revealer of truth and the ultimate team player. Recent work: WSKG Public Television's Twilight Zone Live! broadcast (Rod Serling), Light in Winter Festival, A Short History of Everything (Charles Darwin), the original musical Tony and the Soprano, Kitchen Theatre (Carmine Bruno), Betrayal (Hanger Theatre), Hamlet, Rev Theatre (Claudius/Ghost) and with the Ithaca Shakespeare Company, A Midsummer Night's Dream (Nick Bottom).
In Shakespeare's canon, he has appeared in 14 productions with six different companies. Along with Bottom and Claudius some favorites include Macbeth (Macbeth), Twelfth Night (Feste) and with the ISC, King Lear (Gloucester), and Antony and Cleopatra (Enobarbus). He performed daily for 5 months in repertory theater with the New Jersey Shakespeare Festival. Other favorites include: Sleuth (Milo Tindel), Sweeney Todd (Sweeney Todd), and Dial M for Murder (Tony Wendice).
Robert is a strong believer in the power of theater as a force for social and personal change and enhancing education. For several years he was a performer and teaching artist for the Kennedy Center-funded Imagination Celebration and the Lincoln Center-funded Institute for Arts in Education. He served as the professional Director of the Mental Health Players for 10 years where he supervised or directed, wrote, cast and acted in hundreds of interactive theater pieces to provide highly innovative forums for schools, agencies, universities, corporations, and at risk populations to learn about a myriad of issues including mental health, substance abuse, domestic violence, diversity, gender equality, workplace relations and many, many more.
As a movement theater artist, he wrote and performed 3 original one man shows using classic mime, commedia, mask, and story. He appeared regularly with American Dance Asylum, Whitney Ballet Theater, Rod Serling Dance Company and the American Traveling Morrice (34 tours). He has choreographed for the ISC and NJ Shakespeare Festival. He was a competitively selected student of Marcel Marceau, with whom he studied for four summers and was invited to France to participate in his school in Paris.
Robert has performed in Canada, Zimbabwe, England, California and throughout the Northeast, USA. He began performing with the Red Bull Players/ISC on Antony and Cleopatra in 2003.