Twelfth Night is Coming February 14th!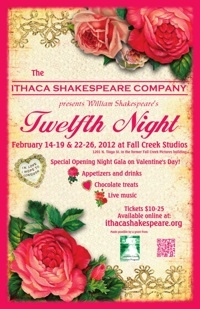 The last of Shakespeare's major romantic comedies to be written, Twelfth Night is a spectacularly entertaining play that features:
a shipwreck
a heroine in disguise
twins that no one can tell apart
a lovesick count
a lovesick countess
a pair of drunken pranksters
a duel (sort of)
the infamous yellow stockings
a pirate
a fool
a madman
a bunch of lovers
a bunch of songs
and a whole lot of smiling!
Don't miss your chance to kick off our Tenth Anniversary Season with us and see this first production in our new space!

Opening Night Gala on Valentine's Day, February 14, 2012

Regular Performances February 15, 16, 17, 18, 22, 23, 24, 25 at 7:30 pm

Sunday Matinees February 19 and 26 at 4 pm

Seating is limited, so get your tickets now!

Dinner and a Show Packages
Great news! Now you can package any performance of Twelfth Night with dinner at our next-door neighbors in Fall Creek, Northstar Pub! Get your play tickets and meal all together for one great price!

Package prices start at just $26 per person for dinner AND the play!

Dinners will include your choice of either (a) appetizer and entree or (b) entree and dessert.

See all the details here.

Read the Ithaca Times' glowing review of Northstar here.