Are you an actor who wants to be part of what Ithaca Shakespeare does? We've got a new acting class coming up, and auditions for our next production are going on now...
Acting Shakespeare:
Character And Scene Study Class
Wednesday evenings, September 30 - November 18, 2015
This 8-week class will take a group of actors in detail through the process of creating a character and preparing a scene in the real-world context of work on a specific play. The goal is to develop a practical, repeatable process for crafting great performances and memorable characters every time.

This class is aimed at actors with some training and/or experience who want to go deeper into the complexities of acting Shakespeare. Space is limited, so reserve your spot today!
Auditions for Henry V
A few audition spots are still available for Henry V this weekend, September 19 and 20, 2015.
See more information and sign up to audition here

And for those who would rather watch the shows than be part of them, mark your calendars now for the next installment in our series of Shakespeare's history plays...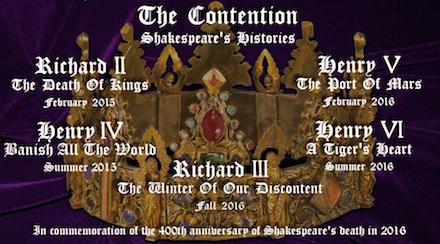 The Ithaca Shakespeare Company · Ithaca, NY 14850 · info@ithacashakespeare.org