Summer 2014 Tickets Available Now!
Advance tickets and reserved seating for Hamlet and Love's Labour's Lost are available now on our website. General admission to these shows is still just $10! Or you can choose reserved seating, available in limited quantities, and have the best seats in the house waiting for you when you arrive. Reserved seating must be ordered online in advance. General admission tickets can be ordered in advance or purchased at the entrance.
Last Chance For Kids' Shakespeare Camp
There is still space available in our summer Kids' Shakespeare Camp, but we need to hear from you right away! This two-week training program for ages 8-13, run by the professional actor playing Hamlet for ISC this summer, will give your kids a chance to learn about Shakespeare in the most exciting possible way — as a living, breathing art form, meant to be performed on stage in front of an audience. Don't miss this chance to give your kids a unique exposure to what's involved in bringing Shakespeare's works to life! The camp will run from June 30-July 13.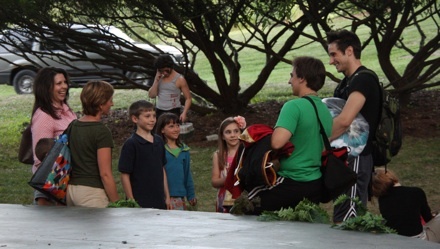 ISC actors are always besieged by kids after a show.
Let your kids become part of the excitement!
We're Moving!
This summer's performances of Hamlet and Love's Labour's Lost will be in a (slightly) different location from previous summers. We're moving from our previous site inside Jackson Grove to the larger meadow area right next to it. The parking location is the same as before, but the new site is larger, has better grass cover and a natural bowl shape, and doesn't require the audience to face directly into the sun as it sets! All which we most powerfully and potently believe will enhance our audiences' experience of the shows. This move is a key step in continuing to expand and improve our summer Shakespeare festival, so come check out the shows in the new location!
Go Behind The Scenes
See what the actors are up to and get a sneak peak at preparations for this summer's shows. Check out a gallery of rehearsal photos here.
See The Shows For Free
Sign up to be an usher at this summer's performances!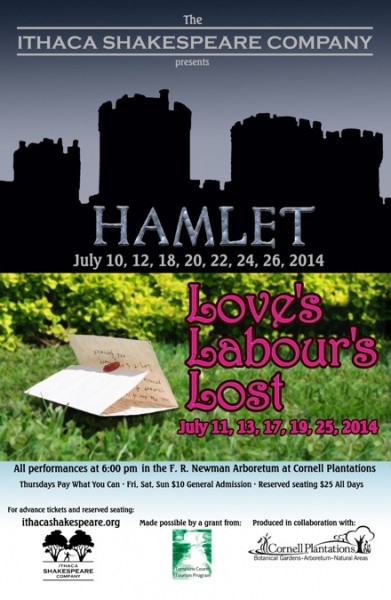 The Ithaca Shakespeare Company · Ithaca, NY 14850 · info@ithacashakespeare.org