February 13-15 and 19-21, 2015
at the Hangar Theatre
Free wine tasting from Americana Vineyards
on Friday, February 13!
The first production in ISC's epic sequence of Shakespeare's history plays, chronicling 100 years of struggle for control of the English throne!
Featuring some of Shakespeare's most beautiful and moving poetic speeches, Richard II is the tale of two kings — one who must lose everything in order to find himself, and another whose actions sow the seeds for the conflict that will engulf the nation for nearly a century.
"Richard II is a riveting play. The cast is uniformly terrific. And I should make special note of the two actors in the two pivotal roles. John Keese is extraordinary as Richard (nicely evoking the otherworldly quality of someone who has been a king since he was ten — raised in a proverbial bubble). And Michael Donato is equally outstanding as the incoming King Henry who wrests Richard's crown from him (with, by turns, great vigor, anger, confusion and humanity)."
— Ithaca Times

Read the full Ithaca Times article here

Don't miss this first episode in Shakespeare's original
Game of Thrones!
Evening performances at 7:30 pm
Sunday matinee on February 15 at 4 pm
Tickets can also be purchased by calling the Hangar Box Office at 607-273-2787.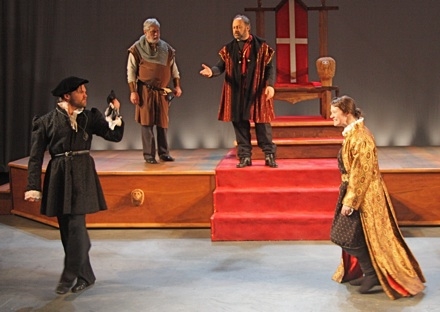 The Ithaca Shakespeare Company · Ithaca, NY 14850 · info@ithacashakespeare.org