ISC will be offering both introductory and advanced acting classes this spring. Sign up for the one that seems most appropriate for you, or take them both in sequence — the introductory class is perfect preparation for the more advanced scene and character study class.

Space is limited in both classes. To reserve a spot or for more information, visit our website or e-mail us at info@ithacashakespeare.org.
Introduction to Acting Shakespeare
March 8-24, 2016, Tuesdays and Thursdays from 6:30-8 pm

This course is intended as a general introduction to the fundamental techniques of acting Shakespeare. We'll take you step-by-step through the process of learning to read Shakespeare like an actor, finding the clues in the script to craft a performance, speaking Shakespeare effectively, approaching and breaking down long speeches, auditioning for Shakespeare, and working on a Shakespearean scene.

Students of any experience level are welcome, but you should start with this course if:
you're relatively new to Shakespeare and/or acting
you're intimidated by Shakespeare or don't feel comfortable reading his plays
you're not sure how serious you are about acting Shakespeare, but you want to explore it
you have limited out-of-class time to work on scenes
This course is highly recommended for actors with limited experience in Shakespeare who want to audition for ISC at our spring auditions at the end of March.

The majority of the work will be done during class time in this course. Required out-of-class work will be minimal.

See more details or sign up now
Acting Shakespeare: Character and Scene Study
April 5-28, 2016, Tuesdays and Thursdays from 6:30-8:30 pm

This more advanced course will take a group of actors in detail through the process of creating a character and preparing a scene in the practical, real-world context of work on a specific play. The goal is to help each actor develop a practical, repeatable process for building fascinating, lifelike characters and crafting riveting, nuanced performances from a Shakespearean script.

You should choose this class if:
you have some acting training and/or experience (not necessarily in Shakespeare)
you're relatively comfortable reading Shakespeare
you're serious about learning to act Shakespeare at a high level
you're willing and able to work on scenes with a partner outside of class time
This course would be ideal for someone who has been through our introductory course and wants to go deeper. Actors are welcome to repeat this class and work on different characters each time.

Some out-of-class work will be necessary, including individual preparation and memorization and work with a partner on scenes.

See more details or sign up now
The King Is Dead...
Long Live The King!
Thanks to everyone who came to see Henry V at the Hangar in February!

Another great review was published in the Cornell Daily Sun.
Check it out here.

Our production ended with Henry V and Katherine holding their son, the future King Henry VI...which leads us to the next installment in Shakespeare's historical epic, Henry VI: A Tiger's Heart, coming to Cornell Plantations this summer!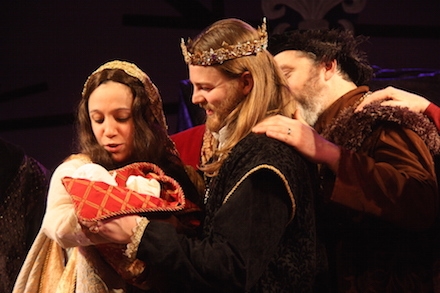 Henry VI picks up at the funeral of Henry V and leads right into the grand finale of the history series, Richard III. But Richard actually makes his first appearance and emerges as a major character in Henry VI, which also features:
two of Shakespeare's strongest women in Queen Margaret and Joan of Arc
the scene that gave birth to the phrase "the Wars of the Roses"
a popular rebellion with the slogan "Let's kill all the lawyers!"
and of course a whole lot of swordplay, speechifying, and maneuvering for the throne.
The "game of thrones" heats up to boiling point in this show, so put it on your calendars now!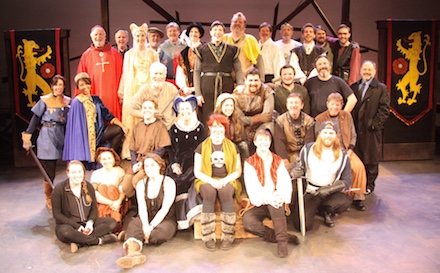 See you this summer!

The Ithaca Shakespeare Company · Ithaca, NY 14850 · info@ithacashakespeare.org