The Tempest Is Building At The Hangar...
It's almost here...

The Tempest design team has assembled from far and wide and started to build our set...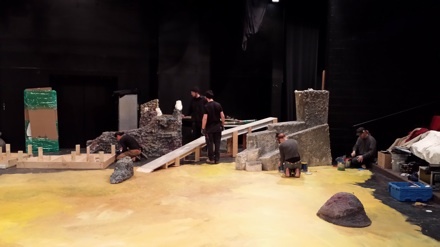 Rehearsals have moved from our studio space at Fall Creek Studios to the Hangar...




...and we're doing everything we can to make this show a fantastic experience for you!

From the opening storm to the famous final speech...

From the otherworldly music of the Ariels to the drunken squabbling of the king's butler and jester...

From the pain of enslavement to the joys of love and freedom...

From a critical examination of the consequences of European colonialism to a profound realization about what it means to be human...

This will be a production you don't want to miss.

A few spots are left in our Acting Shakespeare Classes
Tuesday and Thursday evenings, 6:30 - 8 pm
February 11 - March 20, 2014

Two professional-level courses are being offered to help actors develop the skills needed to handle Shakespeare's heightened language effectively:

Tuesdays: Shakespearean Acting Technique
This class will tackle the tools needed for both mastering Shakespeare's verse and fully inhabiting the text-as-performance. Each student will make an audition-oriented monologue their own, and explore a scene for in-class performance.

Thursdays: Voice for the Actor
Plays are about language — poetic, profane, plain or pretty. So audiences need to hear and understand every speech. In this class, you will learn how to breathe fully, release the tensions that limit the voice, and how to articulate and love the words of a play.

All adult, college & high school actors serious about the craft are welcome!

For more information and to register, visit our website!