Upcoming Fall Events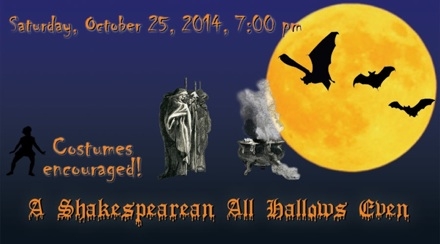 When: Saturday, October 25, 2014
Pre-show festivities begin at 7:00 pm
Performance starts at 7:30 pm
Where: Fall Creek Studios, 1201 N. Tioga St.
Tickets: $10 for Adults, $5 for Children 12 and Under
Costumes encouraged!
Come celebrate the witching season with us! Watch your favorite ISC actors perform spooky scenes and speeches from Shakespeare, while musicians Elizabeth Banlaki Frank, Kristen Park, and Melissa Snyder, accompanied by pianist Bill Cowdery, will enhance the settings with vocal music from the 17th-20th centuries. Also featuring the recorder ensemble Trillium, and photo ops with the Bard himself...

A selection of theatrical costumes will be available for lending or sale to those who don't have their own, but we encourage you to come dressed in your Halloween best!

The studio will be "Tricked" out in Halloween decor, a variety of "Treats" will be served, children are welcome, and it will be a frighteningly good time for all!

Seating is strictly limited, and last year's show was sold out, so...
There are never enough female roles in Shakespeare's plays, so this November we're turning an all-female cast loose on one of Shakespeare's greatest tragedies!

Although ISC has often cast women in male roles, and last year presented an all-female cast in Desdemona, Paula Vogel's modern feminist take on Othello, this will be the company's first Shakespeare play featuring an all-female cast. The cast includes several actors who are new to the company as well as those familiar to audiences from previous ISC shows.

"When women inhabit these male characters, it helps bring the violent and honor-obsessed world of the play into sharper focus," says director Amina Omari. "Of course, in a world where so many female roles are underwritten, it's also thrilling to watch a talented cast of women scheme, swashbuckle, and fully embrace the spotlight."

Don't miss this provocative and challenging gender-bending take on Shakespeare's great historical tragedy! Honor, betrayal, conspiracy, murder, swordfights, riots, ghosts, and one of the most brilliantly persuasive speeches ever written...
When: November 6-9 and 13-16, 2014
Evening performances at 7:30 pm, Sunday matinees at 4 pm
Where: Fall Creek Studios, 1201 N. Tioga St.
Thursdays are discount nights — all tickets just $12!
Regular tickets on other nights are $20, with student and senior discounts available.
Seating is very limited, and previous productions at Fall Creek have sold out every show, so...

The Ithaca Shakespeare Company · Ithaca, NY 14850 · info@ithacashakespeare.org