HAPPY NEW YEAR FROM
THE ITHACA SHAKESPEARE COMPANY!
We're very excited about 2010 and all the possibilities it holds. The ISC is growing as a theatre company and an organization, and there are a lot of exciting new developments on the horizon for us.

For example...
We have a new logo!
There were many great designs submitted for our logo contest, and we're truly grateful to everyone who put their time and energy and creativity into designing something for us. The final decision was not an easy one, but there was one entry that stood out to all of us for the way it captured who we are and what we do. Here it is:


We loved the basic concept of an assortment of Shakespearean characters appearing amongst the trees. We liked the balance between stylization and realism in the design. We also liked its flexibility: we could imagine this design being effective in many different contexts, and we could imagine it being adaptable in various ways when needed, without losing its basic identity and recognizability. For example, the designer also created a more compact version for us to use when space is tight: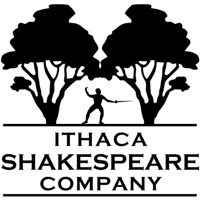 The company considered the entries anonymously and chose the winner without knowing who had submitted it. Only after making the decision did we learn that the winning entry had been submitted by one of our own! Melanie Uhlir, a founding member of the company and the person who has done most of our graphic design work over the years, created this logo.

Melanie was last seen as Puck in last year's production of A Midsummer Night's Dream, and we were thrilled to discover that she had submitted the winning logo.
So congratulations to Melanie, and our deepest thanks to everyone who entered the contest!