Hamlet opens on Thursday, July 10, and Love's Labour's Lost opens Friday, July 11. The weather's looking great and you'll love the new performance site (right next to the old one)!
"The Very Best Summer Thing..."
Read the Ithaca Journal preview article on the shows
Read the Ithaca Times preview article on the shows
Advance tickets and reserved seating are available now on our website. Thursday nights are Pay What You Can at the door, and General Admission on other nights is still just $10! Or you can choose reserved seating, available in limited quantities, and have the best seats in the house waiting for you when you arrive. Reserved seating must be ordered online in advance. General admission tickets can be ordered in advance or purchased at the entrance.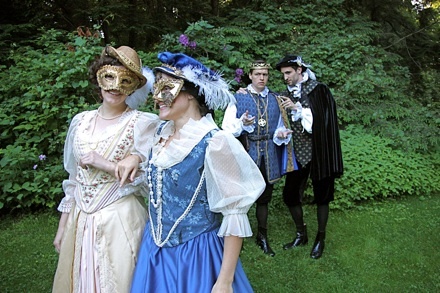 See The Shows For Free
We still need ushers for some shows! Sign up to be an usher at this summer's performances and see one or both plays for free!
We've Moved!
This summer's performances will be in a (slightly) different location from previous summers. We've moved from our previous site inside Jackson Grove to the larger meadow area right next to it. The parking location is the same as before, but the new site is larger, has better grass cover and a natural bowl shape, and doesn't require the audience to face directly into the sun as it sets! This move is a key step in continuing to expand and improve our summer Shakespeare festival, so come check out the shows in the new location!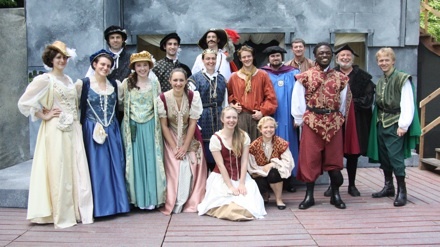 Wouldn't you like to spend a summer evening with this bunch?


The Ithaca Shakespeare Company · Ithaca, NY 14850 · info@ithacashakespeare.org