A Midsummer Night's Dream and As You Like It (2011)
Some Things You Might Be Wondering...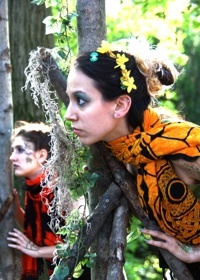 Why are we doing A Midsummer Night's Dream again, after just doing it two years ago?

This year's production came about because the Ithaca Festival chose "A Midsummer Night's Dream" as the festival's 2011 theme and invited us to present a production of the play as part of the festivities. That sounded like a great idea to us, but we couldn't stand the thought of preparing a production for only a single performance. And we had already started planning to do As You Like It as our Plantations show for this year. So we decided to take this opportunity to leap ahead into something we've been considering for several years: adding a second show to our summer season and presenting them in rotating repertory.

So Midsummer will have its premiere at the Ithaca Festival in Stewart Park, and then it will be presented in rotation with As You Like It at Cornell Plantations in July.

(And to be honest, we never get tired of this play, no matter how often we see or perform it...)


Will this be a revival of the 2009 production, or a completely new version?

Yes.

Huh?

It's a little of both. Some actors will be returning in their 2009 roles, and some of the characters in that show were so perfect and so beloved by our audiences that we can't bear to make major changes in them.
Visit the main page for our 2009 production
See the photo gallery from our 2009 production
On the other hand, the majority of the cast and creative team are new to this production, so they will inevitably come up with different approaches to this endlessly adaptable script.


Why perform these shows in rotating repertory?

Because it's fun! For both the actors and the audiences. Come one night and see an actor playing an aristocrat; come back the next night, and he's a country bumpkin. The Faery Queen becomes a servant, and a hobgoblin turns into a French courtier. Different costumes, different voices, different characters, same actors. The actors love the challenge of creating wildly different characters each night. And audiences can see two completely different Shakespeare shows in a short span of time.

Also, these two plays go really well together. They share a number of characteristics: both are romantic comedies; both begin in courtly settings but center around transformative journeys into a forest; both highlight the clash of personalities and attitudes between aristocratic and working-class characters; and both involve elements of disguise, mistaken identity, and supernatural forces.

But they also lend themselves to different production styles. We've tried to make the shows as different as possible, emphasizing the physical comedy and humor of A Midsummer Night's Dream while focusing on character development and romance in As You Like It. Each play will also have its own distinctive production design and historical period.

The most important reason, perhaps, is that we see the addition of a second show as an exciting, important step toward our long-term goal: building a full-fledged Ithaca Shakespeare Festival from the ground up!