A Midsummer Night's Dream (2009)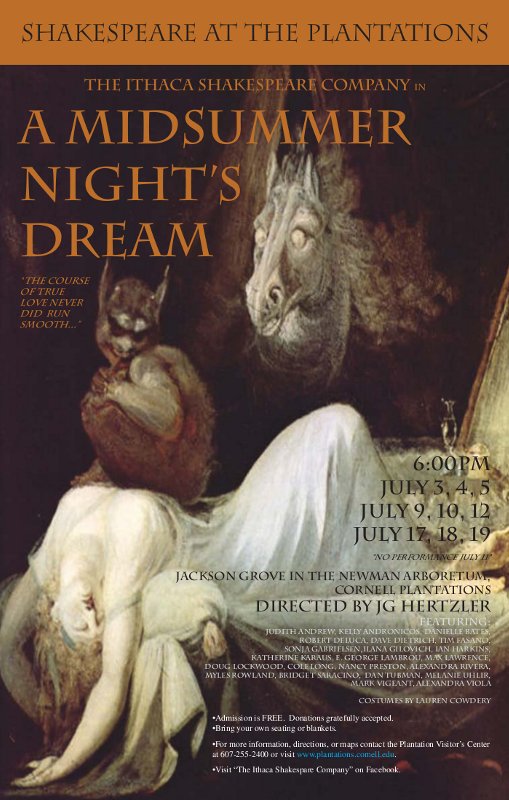 "The best production of Midsummer Night's Dream I've seen."
Feuding lovers, mischievous fairies, a band of "rude mechanicals" rehearsing a play, a Duke and an Amazon queen - all these and more come together in a haunted grove for some of the funniest scenes in all of Shakespeare!
"Everyone, from young children to senior citizens, was fully engaged by this midsummer evening performance...

The dialogue, vocal phrasing, and gestures are captivating and immediately understandable for viewers of all ages. Each part was masterfully cast." - Ithaca Times
The 2009 production of A Midsummer Night's Dream was the company's largest yet, both in terms of the scale of the production itself and the size of the audiences it drew.
The production featured our largest cast to date and was set in a magnificent grove of trees in the F.R. Newman Arboretum at Cornell Plantations, near the ponds and sculpture garden. It was directed by stage, screen, and Star Trek: Deep Space Nine veteran J.G. Hertzler from Cornell's Department of Theatre, Film, and Dance, and fused comedy, romance, music, dance, and the beautiful wooded location into an unforgettable theatrical experience.

| | |
| --- | --- |
| | For me, theatre, in its most distilled form, is a dream. It flows with illogical logic, indecipherable clarity and unintelligible meaning. Its visions are filled with vivid and unforgettable images that are soon irretrievably forgotten and refuse to be conjured by the waking mind. We, humanity, are such things as dreams are made on. Perhaps it is not our reason that sets us apart from all other life-forms, rather it may be our will, our ability, our need....to dream. - J.G. Hertzler, Director |
The production drew capacity crowds almost every evening, with a total attendance of nearly 3,000 people over the three-week run - including an audience of 600 on closing night.
"What a cast...we fell in love with all of you!"

I had the cutest encounter Saturday night. I was picking up dinner at a restaurant and a little voice behind me said, "Hello Titania. I liked your play!" It was a little girl, perhaps 6 or 7, there with her parents. They had seen our play and the little girl was so taken with it that she has become quite the Shakespeare fan! "And my daddy, believe it or not, saw Hermia at Wegman's!" I had the nicest chat with them all. - Judith Andrew (Titania)


"A triumph for the Ithaca Shakespeare Company!"
"This is what life is all about!"
Sponsors
This production was sponsored by:
Thanks for your support!