Summer 2020: Romeo and Juliet and The Comedy of Errors
"The very best summer thing."
-- Warren Greenwood, Ithaca Times
Update on Summer 2020 performances:
There WILL be Shakespeare this summer! But it's going to look different.
With so much uncertainty regarding how the COVID-19 situation is going to develop over the next few months, we had to come to the hard conclusion that we can't continue preparing for our regular, live, in-person, outdoor performances in July.
Instead, we are going to do 100% virtual productions of Comedy of Errors and Romeo and Juliet! 
These will be full productions, prepared and acted in ways that are consistent with our usual approach — but with some twists that take advantage of the digital medium and allow us to do things we wouldn't be able to do live. And you'll be able to watch them from the safety of your home, or anywhere else!
We expect the final performances to be available in July, just like the regular performances would have been. We'll be sharing more details in the coming weeks and months, so stay tuned for more details coming soon!
Romeo and Juliet
It's been 8 years since ISC's last production of the greatest love story of all time. Join us this summer and get swept away in this tale of overwhelming passion, lyrical poetry, and tragic misfortune.
The Comedy of Errors
Not one but TWO sets of identical twins wreak havoc in one of Shakespeare's craziest comedies! Confusion, arrests, mistaken identities, an exorcism, and a family separated and reunited fill the stage as the hilarity unfolds in the streets of ancient Ephesus.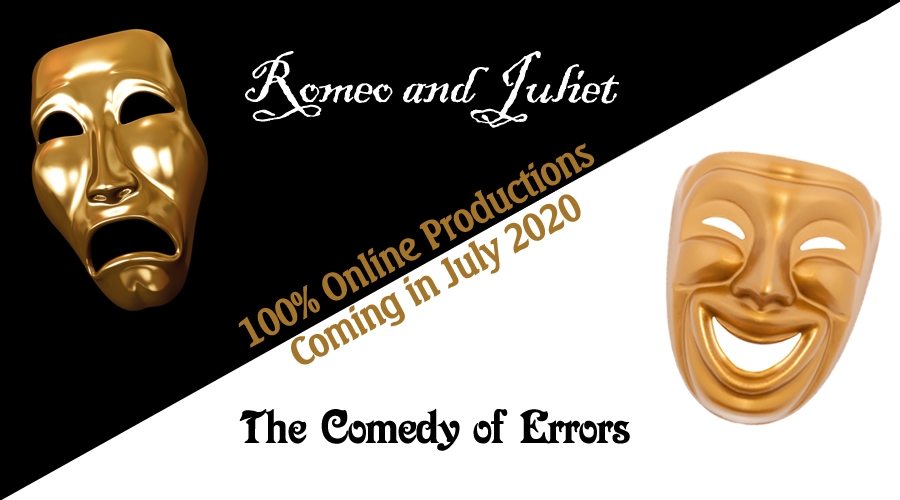 Made possible by financial support from: