Summer 2020: Romeo and Juliet and The Comedy of Errors
"The very best summer thing."
-- Warren Greenwood, Ithaca Times
For summer 2020, we'll be back at our beautiful new site in Robert Treman State Park, bringing you both the Comedy and the Tragedy of Errors!
Romeo and Juliet
July 9, 11, 17, 19, 23, 25 at 6 pm
It's been 8 years since ISC's last production of the greatest love story of all time. Join us this summer and get swept away in this tale of overwhelming passion, lyrical poetry, dazzling swordfights, and tragic misfortune.
The Comedy of Errors
July 10, 12, 16, 18, 24, 26 at 6 pm
Not one but TWO sets of identical twins wreak havoc in one of Shakespeare's craziest comedies! Confusion, arrests, mistaken identities, an exorcism, and a family separated and reunited fill the stage as the hilarity unfolds in the streets of ancient Ephesus.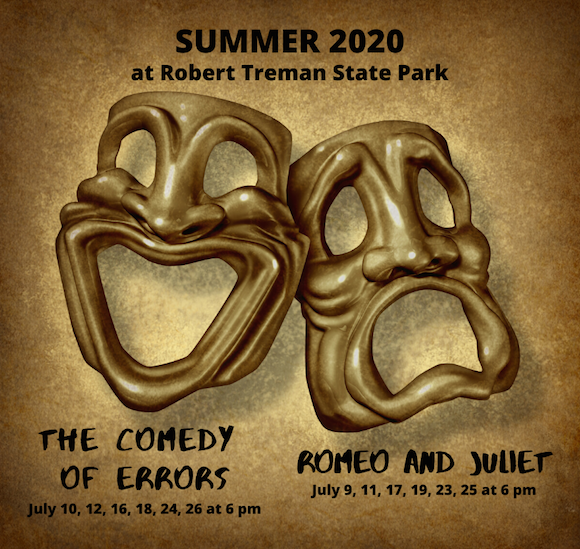 Back at Robert Treman This Year!
The Ithaca Shakespeare Company will be presenting its 2020 summer season at Robert H. Treman State Park, one of the most beautiful parks in New York State.
Read more about the location here.

Made possible by financial support from: