20th Anniversary Season: Julius Caesar / Two Gentlemen of Verona / Antony and Cleopatra
"The very best summer thing."
-- Warren Greenwood, Ithaca Times
Summer 2022
20th Anniversary Season
All shows at 6 pm at Robert H. Treman State Park
We strongly encourage everyone to get their tickets in advance, since capacity is limited.
Please note that we are currently requiring proof of vaccination against COVID-19 for all attendees.
Rain Policy: Performances will continue in most weather. We only cancel performances when there is a high risk of dangerous weather conditions. In that case, we will email all ticketholders and post notices on our website and Facebook page. If a thunderstorm hits during a performance, we are required to stop the show and will ask the audience to return to their vehicles until the storm has passed. Once it has, we will try to resume the show if we can.
JULIUS CAESAR
June 9-12 and 16-19
One of Shakespeare's great tragedies, which we've never performed outdoors. Was the assassination of Julius Caesar the ultimate betrayal, or the ultimate act of patriotism? Perhaps more than any other, this is a play for today, exploring the dangerous balance between freedom, violence, tyranny, and chaos.
THE TWO GENTLEMEN OF VERONA
July 20, 22, 24, 28, 30
A play that we've never produced in any form -- a sparkling romantic comedy featuring smart women, foolish men, a gang of outlaws, and of course, a bit with a dog...
ANTONY AND CLEOPATRA
July 21, 23, 27, 29, 31
The very first play that we performed outdoors, 20 years ago! A continuation and expansion of the story begun in Julius Caesar, this epic love story spans two continents and the rise of the Roman Empire, but is dominated by one of Shakespeare's most complex and fascinating women.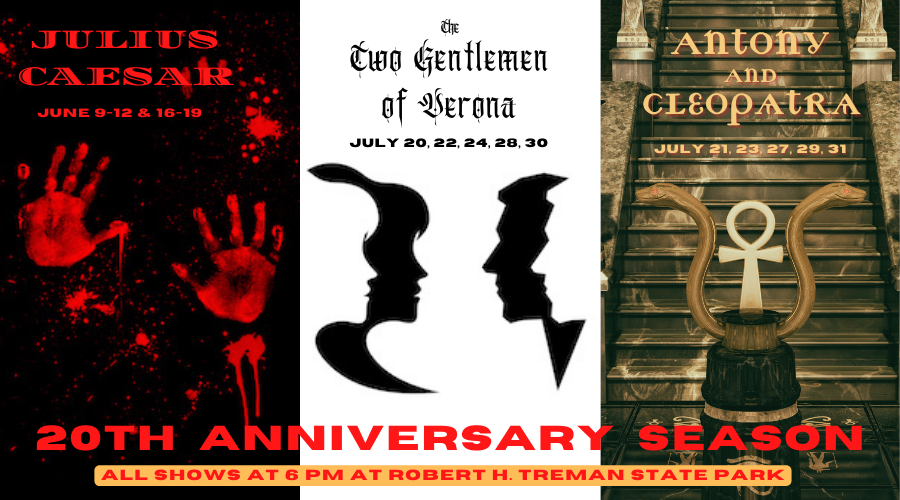 ISC's programs are made possible by:

the New York State Council on the Arts with the support of the Office of the Governor and the New York State Legislature
the Tompkins County Tourism Program