King Lear (2008)
Menu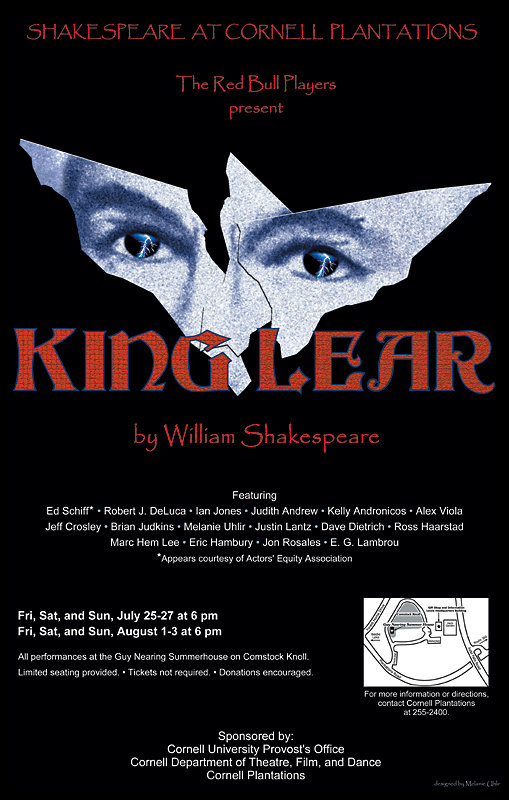 "God, what a show!"
"Expertly performed...The emotional impact was great." - Ithaca Journal
Breaking its pattern of alternating between comic and tragic plays, the Ithaca Shakespeare Company followed up its 2007 production of Hamlet with King Lear — Shakespeare's astonishing vision of human existence in a world tearing itself apart through violence, betrayal, and the lust for power.
"It couldn't have been any better."
An epic tragedy of family, extreme cruelty and extreme loyalty, self-knowledge gained through suffering...and the fleeting fragility of joy.
"Brilliant and moving. You're the best!"
The Cast
King Lear
Ed Schiff*
The Earl of Gloucester
Robert J. DeLuca
Edgar, Gloucester's legitimate son
Jeff Crosley
Edmund, Gloucester's illegitimate son
Brian Judkins
The Earl of Kent
Ian Jones
Goneril, Lear's oldest daughter
Judith Andrew
The Duke of Albany, Goneril's husband
Dave Dietrich
Oswald, Goneril's steward
Ross Haarstad
Regan, Lear's second daughter
Kelly Andronicos
The Duke of Cornwall, Regan's husband
Justin Lantz
Cordelia, Lear's youngest daughter
Alex Viola
The Fool
Melanie Uhlir
The King of France
Marc Hem Lee
The Duke of Burgundy
Eric Hambury
Cornwall's servants
Jon Rosales
Marc Hem Lee
Eric Hambury
Knights/Soldiers/Messengers
Jon Rosales
Marc Hem Lee
Eric Hambury
E.G. Lambrou
Justin Lantz
Ross Haarstad
Director
Stephen Ponton
Stage Manager
Amanda Idoko
Costume Designer
Lauren Cowdery
Fight Choreographer
Collin Cary
Costume/Banner Construction
Lauren Cowdery
Kelly Andronicos
Dave Dietrich
Sound Design
Robert J. DeLuca
Carpentry
Dave Dietrich
Publicity/Promotion
Dave Dietrich
Judith Andrew
Poster/Website Design
Melanie Uhlir
Fight director Collin Cary appears courtesy of Ring of Steel.