The Complete Works of William Shakespeare (Abridged) (2006)
Menu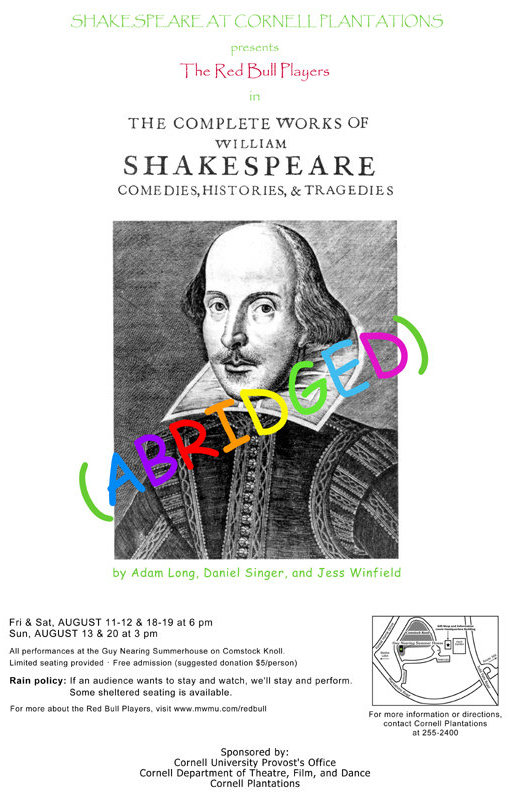 Instead of choosing just one Shakespeare play for the summer of 2006, the ISC decided to tackle all 37 at once with this hilarious, breakneck adaptation by Adam Long, Daniel Singer, and Jess Winfield.
Channeling everyone and everything from football announcers to televangelists to Julia Child, five company members mobilized the entire audience to assist them in this raucous, irreverent romp through the Reader's Digest version of the Bard's works.

The Cast
Judith Andrew
Witch, Julius Caesar, Ghost, Gertrude
Dave Dietrich
Romeo, Macbeth, Soothsayer, Polonius
Christina Rockwell
Benvolio, Tybalt, Nurse, Friar Lawrence, Titus Andronicus, Horatio, Laertes
Jon Rosales
Juliet, Lavinia, Cleopatra, Ophelia, Othello, Claudius
Melanie Uhlir
Macduff, Antony, Hamlet
Yorick*
Himself
Directors
Emily Lloyd and Steve Ponton
Publicity/Poster Design
Melanie Uhlir
Costume Designer
Lauren Cowdery
Fight Choreographer
Christina Rockwell
"Comedy" Sequence signs painted by
Ben Andrew
Special thanks
Christopher Bolgiano, Lisa Trust, and Kevin Moss at Cornell Plantations for their assistance; Tim Ostrander for the props; Lauren for the costumes; Ben for painting the signs; Melanie, Dave, and Emily for all their work on the logistics of the show.