Sir John Falstaff and the Merry Wives of Windsor (2004)
Menu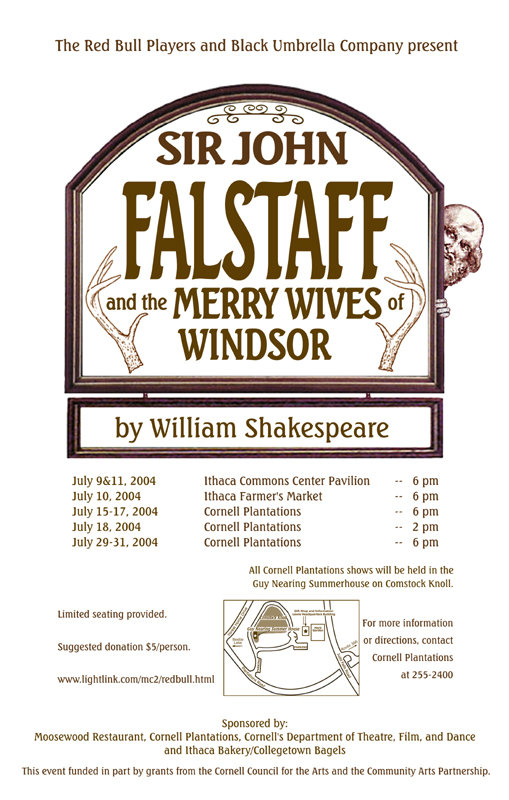 "The perfect summer show."
In July 2004, the ISC presented one of Shakespeare's craziest comedies at the Ithaca Farmers' Market and on the Commons, in addition to our usual site at Cornell Plantations. Audiences braved the coldest and rainiest July on record to enjoy the wild antics of Sir John Falstaff and the citizens of Windsor.
"Absolutely hilarious."
There is a famous story about the origin of this play: Queen Elizabeth was allegedly so delighted with Falstaff's antics in the two parts of Henry IV that she ordered Shakespeare to write another play with Falstaff in it, one that would show "Sir John in love." What Shakespeare delivered is not Sir John in love but Sir John in lust - and greed - which is much, much better.
"Incredibly entertaining."
Although this play is usually just referred to as The Merry Wives of Windsor, the ISC chose to use the original title from the play's first publication in 1602, because it reminds us that Falstaff is at the center of this play: a larger-than-life figure in every sense, so full of wit and vitality, so completely irrepressible, that the fact that he is defeated and humiliated in this play - several times - scarcely seems to matter. He tells the stories of his defeats with so much gusto and imagination that they almost seem to become shining examples of adversity endured and overcome.
"So clear and compelling."
Falstaff is surrounded here, though, by one of the greatest comic ensembles in any of Shakespeare's plays. If anyone doubts this, just listen to the way these people talk: each one of them has a completely individual way of using - or more often, misusing - the English language.
"The cast was amazing."
As always in Shakespeare, this play refuses to restrict itself to only one level, tone, or mood. It touches on more serious matters - in the marital relationship of the Fords and the ritualistic scapegoating of Falstaff at the end, for example - as well as on farce, satire, and romantic comedy. But in the end, the sheer energy and vitality of the characters seem to overwhelm all other considerations. This play is more than anything a celebration - of laughter and language, of community and marriage, and above all of the astonishing variety of human quirkiness.
The Cast
This show was produced in association with Black Umbrella company.
Sir John Falstaff
Daniel J. Kiely
Frank Ford
Laurence Drozd*
Mistress Ford
Carolyn Lee
George Page
Robert J. De Luca
Mistress Page
Deborah Duncan
Anne Page, their daughter
Megan Shea
Justice Shallow
Dave Dietrich
Abraham Slender, his nephew
Abel McSurely Bradshaw
Peter Simple, Slender's servant
Betsy Cowdery (Jul 9-18)
Megan Shea (July 29-31)
The Host of the Garter Inn
Travis Atkinson
Doctor Caius, a French physician
David L. Romm
Mistress Quickly, his housekeeper
Melanie Uhlir
John Rugby, Caius' servant
Avery Schuyler Edmunds
Sir Hugh Evans, a Welsh parson
Robert Brazil
Fenton
Travis Atkinson
Falstaff's followers
Pistol
Steve Ponton
Nym
Cole Long
Bardolph
Avery Schuyler Edmunds
Robin, Falstaff's page
Abel McSurely Bradshaw
Director
Steve Ponton
Stage Manager
Melissa Thompson
Producer
Emme Edmunds
Costume Designer
Lauren Cowdery
Graphic design/Web
Melanie Uhlir
The Music
"Bring Us Good Ale" is an English folk song dating from around 1460. Pre- and post-show music by Alexa Raine-Wright (baroque flute and recorder).
Sponsors
This production was sponsored by:
Funded in part by grants from the Cornell Council for the Arts and the Community Arts Partnership
Thanks for your support!
Special Thanks
Melanie and Dave D. for all their hard work and logistical support; Lauren for her wonderful costumes; Tanya Grove, David Feldshuh, and Bruce Levitt in the Cornell Theatre department; Don Rakow at Cornell Plantations; Pamela Lafayette and the Cornell Council for the Arts and Robin Schwartz and the Community Arts Partnership; Moosewood Restaurant, Ithaca Bakery, and Alternatives Federal Credit Union for financial assistance; Jason Keagle at Gnomon Copy.