Ithaca Shakespeare at Kids' Book Fest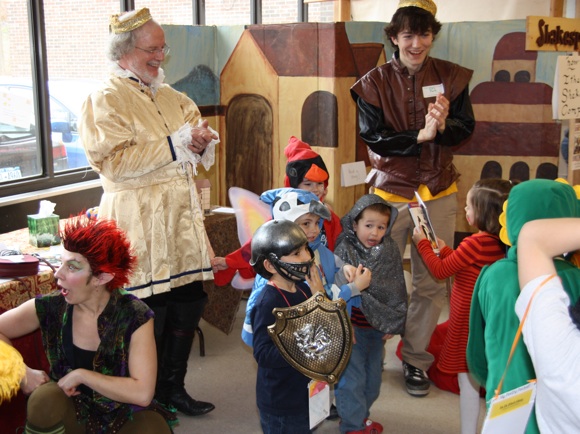 The Ithaca Shakespeare Company's "Shakespeare Lane" was a big hit at the Family Reading Partnership's annual Kids' Book Fest on November 14th. This event is part of the FRP's mission to help children experience the pleasure of books as part of everyday family life, right from the start.
The costumed ISC members greeted a steady stream of parents and children, who put on costumes of their own, read adapted versions of Shakespeare's plays and books about his life, played with a miniature Globe Theatre, composed poems out of Shakespearean words, and were entertained by the juggling and antics of King Mark, Duke Dave, Puck, and the rest of the ISC crew. Kids and parents left with ISC bookmarks in hand, and a good time was had by all.
Click the thumbnails below to see more shots of the merry chaos and all the happy young Shakespeareans at Book Fest.